Senior Health Monitors vs. Safety in Senior Living Communities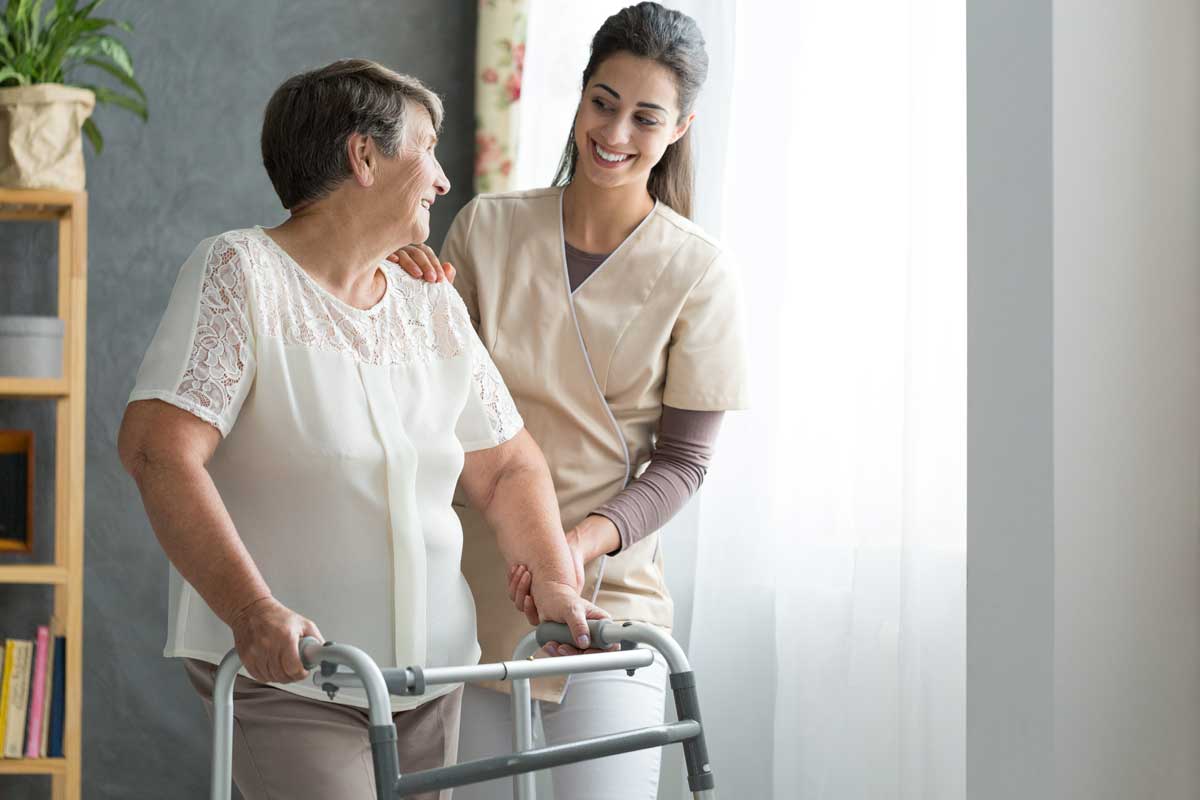 Emergency Alert Monitors vs. Assisted Living
What's the best way to maintain your independence as you age?
If you or someone you love is considering aging in place at home, you may be worried about safety and how to reach out if help is needed. And with good reason: Most U.S. households aren't designed for the safety of seniors living alone. But new digital technologies offer a variety of ways for older adults to connect to assistance, including Life Alert for seniors and other medical alert systems for seniors with fall detection. Such products have become popular ways of trying to help older adults remain safe when aging in place at home; however, while senior health monitors can be useful tools, they may not always be the best solution. In this blog, we'll discuss the advantages and disadvantages of alert systems and how their use compares to assisted living.
The pros and cons of senior health monitors
Many seniors want to remain in their own homes, and who can blame them? Home is the place where they feel comfortable and safe. In reality, however, home isn't always the safest place. The Centers for Disease Control and Prevention (CDC) estimates that 1 in 4 seniors over the age of 65 will suffer a fall. Beyond any injuries suffered, there is the question of accessing help if the senior is unable to reach a phone or if no one comes to check on them. No one wants to imagine a person lying on the floor, injured and alone, with no rescue in sight.
That's why senior health monitors and medical alert systems for seniors with fall detection have become popular tools for seniors who live alone. With this technology, a senior can wear a bracelet or pendant that communicates with a base system connected to a phone line. In an emergency, the senior can simply press a button on the bracelet or pendant to speak with a call center representative who will immediately dispatch appropriate assistance. In systems with fall detection for seniors, assistance will be summoned immediately if the device detects a fall — even if the wearer is unable to press the button or speak.
Medical alert systems such as Life Alert for seniors can provide a quick and easy way to communicate if assistance is needed. They also provide other benefits, including:
ease of use
peace of mind
health monitoring
caregiver and family alerts
independence
On the other hand, senior health monitors and alert systems require regular testing and maintenance, and can sometimes provide false alerts. They also can't help if:
The pendant or bracelet isn't being worn.
The wearer moves out of range of the base device.
The battery is run down or dead.
The phone line is off the hook or disconnected.
There is a technological malfunction.
In addition, these systems can be expensive and may require long-term contracts, which can be money down the drain if your need for the system ends before your contract expires. Senior health monitors also can't solve many of the other challenges for seniors living at home as they age, including home modifications to help prevent falls and enable mobility, assistance with activities of daily living, grocery shopping, meal preparation, or social isolation. If any of these are a concern, it's a good time to explore the option of assisted living.
When to move to a senior living or assisted living community
Assisted living communities are specifically designed with senior independence and safety in mind. In addition to providing help with activities of daily living when needed, assisted living communities can provide significant peace of mind for both residents and their families.When moving to an assisted living community, senior adults often enjoy a newfound confidence that they didn't have when living at home alone. In addition to knowing that help is there any time of day or night, residents are freed from the chores and worries that come with running a household — from shopping, meal preparation, laundry and housekeeping to maintenance and yardwork. They find that their environment is easier to navigate since it's been designed to meet their needs, but also can feel comfortable and familiar when they bring their favorite furnishings and décor from home.
Another important benefit of assisted living is the sense of security residents and their family members have. In addition to having built-in emergency call systems, assisted living communities are staffed around the clock with team members who are available to provide care, respond to resident needs or emergencies, and make sure the community is safe and secure. If a resident falls or needs other assistance in the middle of the night, a caring, compassionate staff member will be right there to help.
Assisted living communities provide so much more than a pendant or bracelet can ever offer — a true sense of safety and security, the 24-hour attention and assistance of caring staff members, a community of friends, entertainment, transportation and, most of all, the opportunity to remain as independent as possible for as long as possible.
To learn more about how assisted living at Lake Seminole Square can help you or someone you love remain safe, independent and engaged, simply call us at 727-314-7432. We'd love to answer your questions about our community.