4 Tips for Safe Medication Management for Seniors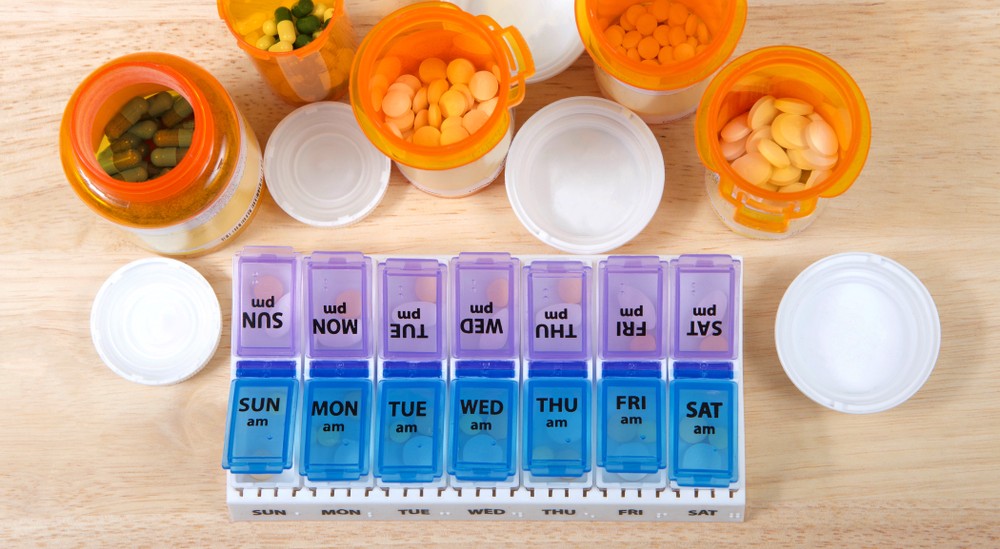 When managed properly, medications are effective treatments for acute and chronic conditions that impact an older adult's ability to complete Activities of Daily Living (ADLs). For instance, pain relievers can help someone with arthritis button their shirt and insulin is a lifesaving drug for seniors with diabetes.
However, the benefits of medication also invite many potential hazards, including  adverse drug reactions, toxic interactions between prescriptions, and adverse reactions to missing a dose.
Here are 4 medication management tips from our experts to help the older adults in your life stay healthy and vital for years to come.
1. Compile a list of medications
When an older adult needs to juggle multiple prescriptions that need to be taken at varying times, it's easy to miss a dose or take too much medication. Also, understanding how each medication works is complicated.
Compiling an easy-to-read list of medications helps clear up a lot of confusion. Here's what to include:
Name  of the medication
What the medication treats
Days/times the person needs to take the medication
How often the medication needs to be refilled
Side effects of the medication
If the medication needs to be eaten with a meal
What they should avoid while taking this medication
This medication management list can be easily created and updated in a spreadsheet on your computer, but keeping a well-organized notebook in a secure location works, too. Be sure to take your loved one's  list on all visits to  the pharmacist or doctor. That way, you can quickly access this important information when they request it.
2. Create an easy-to-follow schedule
Write out a schedule with all your loved one's prescriptions, when they need to take them, and how much they need.
Before giving your loved one any medication, double-check the label to be sure it's the medication you intended to give them. It's important not to rely on your memory, because seniors take several medications with similar names.
3. Pay attention to how your family member is feeling
With more medications, there is an increased chance of developing side effects or adverse reactions with other medications. To keep your family member healthy, keep in mind that medication can impact:
Appetite
Digestion
Weight
Sleep schedule
Drive to be social
Heart rate
Keeping a keen eye on how your loved one is feeling is the only way to let doctors know about issues with a new medication. The doctor will  advise your family member to keep taking the medication, stop taking it immediately, or change their prescription.
Keep in mind that over-the-counter medication seem like a quick fix, but they can react differently when combined with prescribed medications.
Adding something as simple as aspirin might harm your health. Ask a pharmacist about over-the-counter medications before giving them to your family member.
4. Don't be afraid to ask questions
With medication management for seniors, it could be a matter of life and death. Never be afraid to ask a doctor or pharmacist any questions you may have about your loved one's prescriptions.
Here are key questions to ask:
How does my family member take this medication?
How often is this medication taken?
What are the potential side effects?
How does this react with other prescriptions my loved one is taking?
What happens if a dose is missed?
Ask questions about how a medication might affect lifestyle. For example, alcohol should be avoided with some medications, and others may impair a person's ability to drive.
Find Assistance That's Just Right at Lake Seminole Square 
In addition to offering  resort-style treatment and maintenance-free senior living for all residents in independent and assisted living, we provide  personalized assistance with Activities of Daily Living – including medication management and around-the-clock medical staffing – to those who need this support.
To learn more about our stunning senior condominiums or schedule a tour of Lake Seminole Square, contact our senior living representatives online or call us at 727-314-7432. We're always happy to help!