Things to Consider When Choosing a Luxury Lakefront Senior Living Community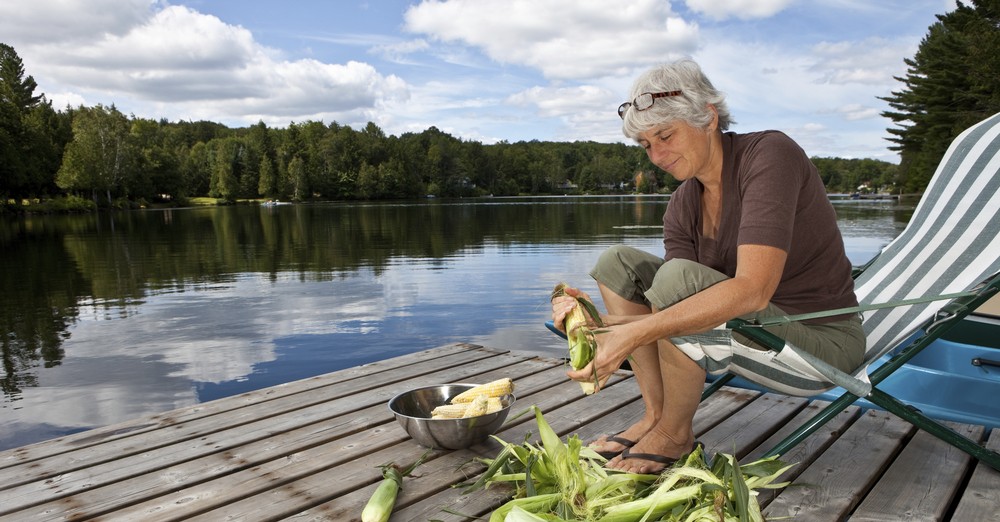 Does your dream retirement include lakeside living? If you're like many older adults, you don't need to look at the research to know spending time by the lake boosts your mental health, improves physical health, and decreases stress. 
Lakefront senior living communities offer a retirement lifestyle that features these benefits and more year-round. However, just like no two bodies of water are the same, no two senior living communities are the same. 
Look at these tips on how to find the right lakeside community for you, and get ready to set sail for the perfect retirement. 
What's the Difference Between a Lake View and a Lakefront Community?
A lakefront senior living community includes shoreline within the community, whereas a lake-view community provides an exquisite view of a lake, but doesn't include shoreline. 
While lakefront communities typically have quick and easy access to the shoreline, lake-view communities may or may not provide lake access with walking paths. 
Lake Seminole Square is a lakefront community with a lush green campus and quick access to the Lake Seminole shoreline. Residents enjoy fishing from our dock or getting out on the water on our pontoon boat. Our outdoor space also includes meticulously maintained walking and biking paths, beautiful courtyards and gardens, and our super-fun shuffleboard courts and mini golf course. 
Choose a Community that Offers Activities Based on Your Interests 
It's important to make sure they offer water activities you'll enjoy and give you the opportunity to meet other people with similar interests. 
For instance, if you like fishing, you'll want a senior living community with easy access to a lake with deep water. Kayakers or canoers should look for a community with an intimate waterfront experience and a lake with calm waters, so they can peacefully enjoy nature.
At our luxury senior living community, Lake Seminole provides smooth waters that are perfect for residents to fish, kayak, or get out on our pontoon boat. They also like to gather to birdwatch, have picnics on the shoreline, and burn calories on the walking and biking paths. 
Residents also get the best of both worlds, because Lake Seminole Square is just minutes away from the coastal areas of St. Petersburg and Clearwater. And just a little farther up the road, you'll discover Madeira Beach and other well-known Pinellas County beaches. 
Find a Community with Enriching and Entertaining Indoor Amenities 
There will be some days when you can't spend time outdoors. Search for lakefront communities that offer services and amenities that add enrichment and entertainment to your retirement lifestyle no matter the weather. 
Lake Seminole Square offers a resort-style inspired lifestyle with activities, services and amenities to match.
Here are just some ways residents enjoy our luxury senior living community when stormy weather rains on their outdoor fun:
Fitness classes and wellness programs

Lifelong learning classes

Heated indoor pool, therapy room and Jacuzzi®

Fully equipped fitness center and indoor walking trail

Billiards and game room

Creative arts studio, woodworking shop 
Our community also offers convenient services and amenities like housekeeping and linen services, regularly scheduled transportation, valet parking, and personal concierge services for an even more luxurious senior living experience. 
Search for a Community with Indoor and Outdoor Dining Options
Lakefront communities should provide delicious food and equally exceptional dining atmospheres that provide plenty of opportunities to comfortably eat inside and outside to admire the view. 
During your tour, imagine yourself sipping coffee in the courtyard, eating lunch al fresco at a casual dining venue, or getting dressed up for a gourmet meal at a more elegant venue. 
Lake Seminole Square has seven dining venues to match any mood and taste, including a formal dining room. Our community also features the Lakeside Bistro, which offers casual fare and both indoor and outdoor dining, and a pub/sports bar for the perfect place to catch the game with your friends. 
Find the Perfect Floor Plan for Your Lifestyle
Finding the right floor plan is essential to lakeside living. After a long day out on the lake and taking advantage of everything a luxury senior living community offers, you'll want a comfortable place to put up your feet and relax. 
Here are some other points to consider when browsing lakefront senior living floor plans:
Enough storage for sporting and outdoor equipment

Where you'll put your wet area for things like muddy boots, raincoats and dog leashes

Where you can wash your clothes

If you like the view from your residence

If you like your private outdoor space like a patio, balcony or lanai
Think about how much time you'll truly spend in your residence. If you plan on leading an active retirement lifestyle, your home might just be a landing pad between activities, which means you could benefit from a smaller space. However, if you plan to entertain your family and friends, or want room for something like a home gym or office, consider a larger floor plan. 
At Lake Seminole Square, we feature a wide range of one-bedroom and two-bedroom floor plans to suit any lifestyle. Plus, you can personalize your residence by choosing from a selection of flooring types and paint colors. 
Experience the Height of Luxury Retirement Living at Lake Seminole Square 
We warmly invite you to experience the uniquely rewarding retirement lifestyle at our community in Seminole, FL. Just contact our senior living representatives online or call us at 727-314-7432 to request an in-person visit. You can also RSVP to one of our many community events.