How to Protect Your Aging Parents' Assets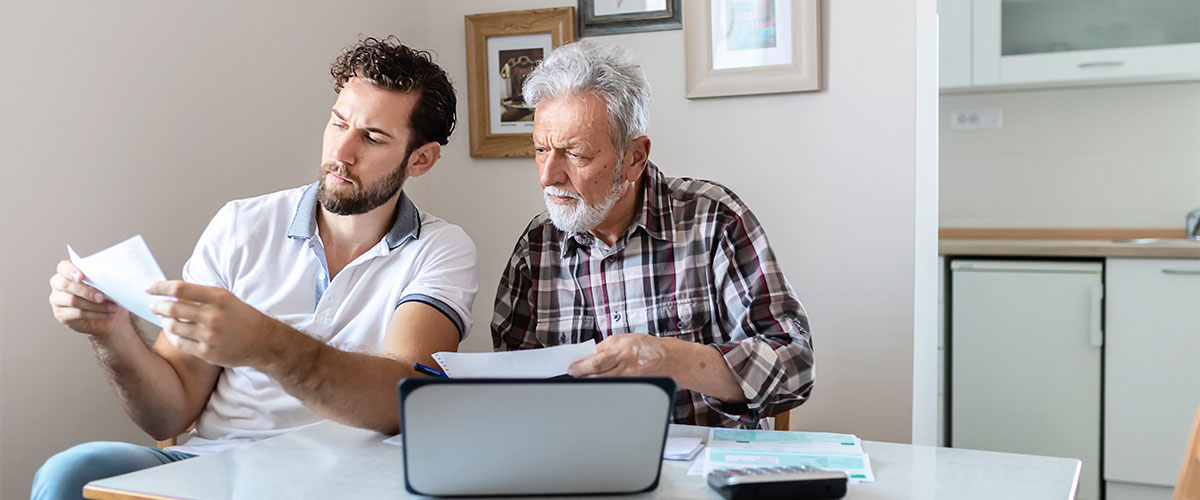 Many adult children worry about protecting senior parents' assets in their later years. It's best to begin discussions while your parents are still able to help inform the plans. You may not already know your parents' financial details, so talk about what sort of assets they have, if there are investments or trusts that need to be directed.
Some adult children are especially concerned about protecting parents' assets if they're likely to develop cognitive impairment that can lead to erratic or illogical decision-making. Once you understand their wishes for the future, there are some prudent ways to help your loved one protect their life savings.
Long-Term Care Insurance
Find out if your parents have invested in long-term care insurance. These funds can help cover the cost of assisted living, memory care, respite care and hospice care. Unfortunately, these levels of care are not covered by Medicare, so long-term care insurance can be a helpful investment.
Help Them Avoid Scams
Older adults are often targets for scams, and scammers are getting increasingly more devious in their tactics. Alerting your parents to the possible scams they might encounter can be very helpful in protecting parents' assets. Possible ploys include Medicare fraud, telemarketing scams, false charity fundraisers, investment schemes, sweepstakes/lottery scams, and grandparent scams. Advise your parents not to give out their Medicare or social security numbers over the phone or in email; only make charitable donations with familiar methods and to known organizations; and if their "grandchild" calls and asks for money, hang up and call that grandchild back on their phone to corroborate. Invite them to call you and ask if they're ever concerned about a request for money or information. If you're not sure if a situation is a scam, it always helps to research.
Simplify Their Financial Portfolio
If your parents' funds are kept in many separate pockets — trusts, investment portfolios, real estate, retirement accounts, savings accounts — look into ways to streamline their holdings. When considering how to protect your parents' assets, there is a smaller chance of fraud or mismanagement if there are fewer accounts to oversee.
Durable Power of Attorney/Health Care Proxy
Many adult children wonder, "How can I protect my senior parents' money when I have no official authority?" or "Am I allowed to make health care decisions for them?" Your parents can give you the power to make those decisions with certain legal documents. Your parents can assign you to be their "health care proxy" or grant you "durable power of attorney." As their health care proxy, you have the authority to make health care decisions in their interest if they are no longer able to do so. With "durable power of attorney," you can make financial decisions on their behalf. With a trusting relationship between the parties involved, this should provide an extra layer of protection to avoid financial challenges.
Will and Advance Directives
A living will allows your parent to outline how they want to be treated in certain medical situations. That way if you, the child, have to make decisions for them down the line, you can act in a way that's consistent with their wishes.In some states, a living will is considered the same as advance directives. In other states, the living will is one document that should be included in the larger file of their advance directives, which are specific written directions for acceptable life-sustaining treatment, resuscitation orders, and organ and tissue donations.As an adult child, these types of legal documents can direct your decisions, potentially saving your parents' estate a lot of money in unwanted medical treatment.
It's never easy to discuss these sensitive topics with parents, but working through the discomfort early can help you navigate difficult scenarios in the future. Plus, you can feel more confident that you're fulfilling your parents' wishes, making the kinds of decisions that protect senior parents' assets and taking actions that best serve them.
If you'd like to find out more about assisted living at Lake Seminole Square, don't hesitate to reach out to us. A helpful member of our team can provide you more details.