A 2022 Holiday Gift Guide for Seniors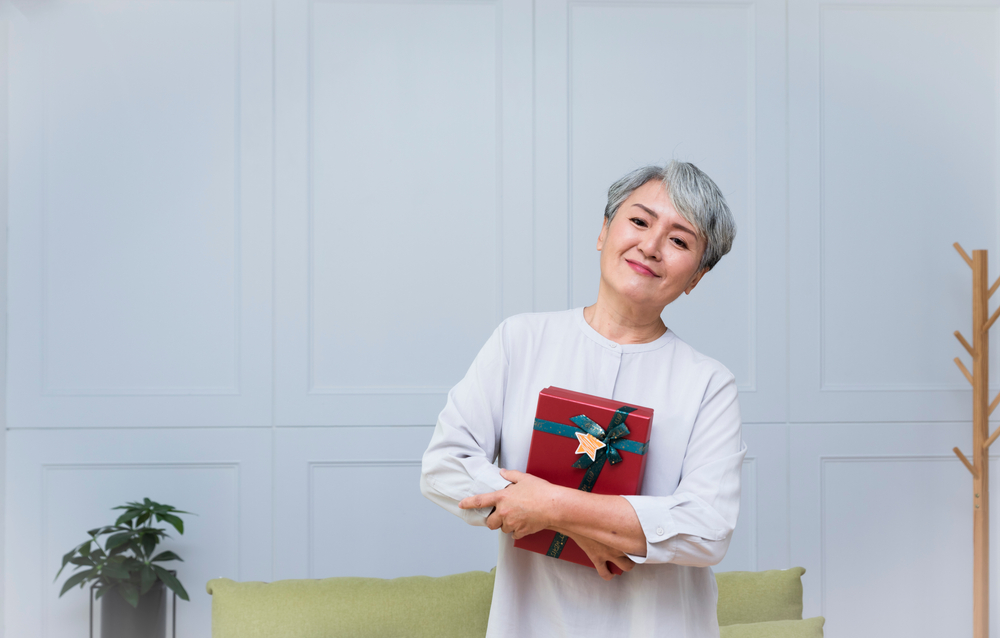 The best holiday gifts for grandparents and parents may not be the biggest or most expensive gifts under the tree, but they're often the most meaningful and useful. Even the simplest gift can express a deep level of understanding, because you know your loved one's likes, dislikes, passions and hobbies better than anyone. If you're on the hunt for creative holiday gift ideas for seniors, we've got you covered with this holiday gift guide for seniors. Here's a roundup of 12 thoughtful holiday gifts:
1. Smart water bottle: It's easy to forget about hydration when you're busy having fun. The HidrateSpark PRO smart water bottle automatically tracks every sip throughout the day on an app connected to a smartphone, and even glows with reminders to help the user stay on track with their hydration goals. Price: $60-$80
2. Digital picture frame: It's easy to share the latest photos of loved ones with the 10-inch Skylight frame. This is a great holiday gift for grandparents who love seeing the smiling faces of their grandkids every day. There's a simple setup and easy-to-use touchscreen, with options to send images from a smartphone or via email. Price: $160-$170
3. Smart speakers with voice assistant: Amazon Echo Dot is a voice-controlled smart speaker with "Alexa" voice assistant. Simply ask Alexa to make voice calls, play music, read the news, share the weather report, check sports scores and more. Price: $40-$50
4. Talking alarm clock: Reminder Rosie is an alarm clock and personal voice reminder assistant. Set personalized voice alarms for your loved one, so they'll hear your voice reminding them to go for a walk, take medications, or watch their favorite TV show. Price: $200
5. Health tracker: Keep track of important health metrics, like activity, breathing rate, heart rate, sleep and more with a wearable health and fitness tracker. The Fitbit Charge 5 offers advanced features such as irregular heart rhythm notifications, a daily stress management score, guided audio workouts and mindfulness tools with a premium membership. Price: $150
6. Robotic pet companion: Give a gift that brings comfort and joy through cuddle time and playful interaction with pets. Robotic dogs and cats made by Joy for All™ Companion Pets are perfect for animal lovers who appreciate the soothing qualities of a furry friend without the responsibilities of taking care of a pet. Price: $125-$140
7. Bird-watching binoculars: The lakefront views, reedy shores and wooded areas near Lake Seminole Square are a bird-watcher's paradise. A good pair of SkyGenius® binoculars with clear images and color fidelity can enhance the bird-watching experience. Price: $30-$50
8. Family recipe keepsake gifts: Preserve a favorite family recipe in a handmade gift your loved one will treasure. Browse recipe keepsake gifts on Etsy for ideas, including a beautiful wooden cutting board or decorative platter engraved with a handwritten recipe. Price: $40-$60
9. Personalized photo puzzle: A custom photo puzzle from Pinhole Press is a heartwarming gift that provides hours of entertainment for your parent or grandparent. Choose a significant photo from their past, a snapshot from a memorable trip, or a current photo capturing a fun moment with family. Price: $20-$30
10. Creative journal: Journaling is a wonderful creative outlet for older adults as a creative outlet and a way to organize the mind by expressing thoughts and feelings in writing. Choose a journal with an inspiring design from an office supply store or Amazon to get them started. Price: $5-$20
11. A flower delivery subscription: If receiving a bouquet of flowers brightens your loved one's day, just imagine their delight when receiving fresh blooms each month! Sign up for a biweekly or monthly delivery of fresh floral arrangements with your local florist or a national florist such as ProFlowers. Price: $50-$100 per delivery
12. Support a charitable cause: Make a gift donation to an organization or cause that's important to your loved one. The possibilities are endless — support organizations dedicated to Alzheimer's disease research, feeding hungry families, wildlife conservation, disaster relief and more. If you need ideas, Charity Navigator is a good place to start. Price: Your choice
Are you looking for more ideas? Check out our gift ideas for seniors who love to travel.
The Gift of a Secure Future
Is the senior in your life looking forward to a maintenance-free lifestyle and close-knit community? Then check out our senior living community with independent living and resort-style amenities at Lake Seminole Square.