Easy Woodworking Projects for Seniors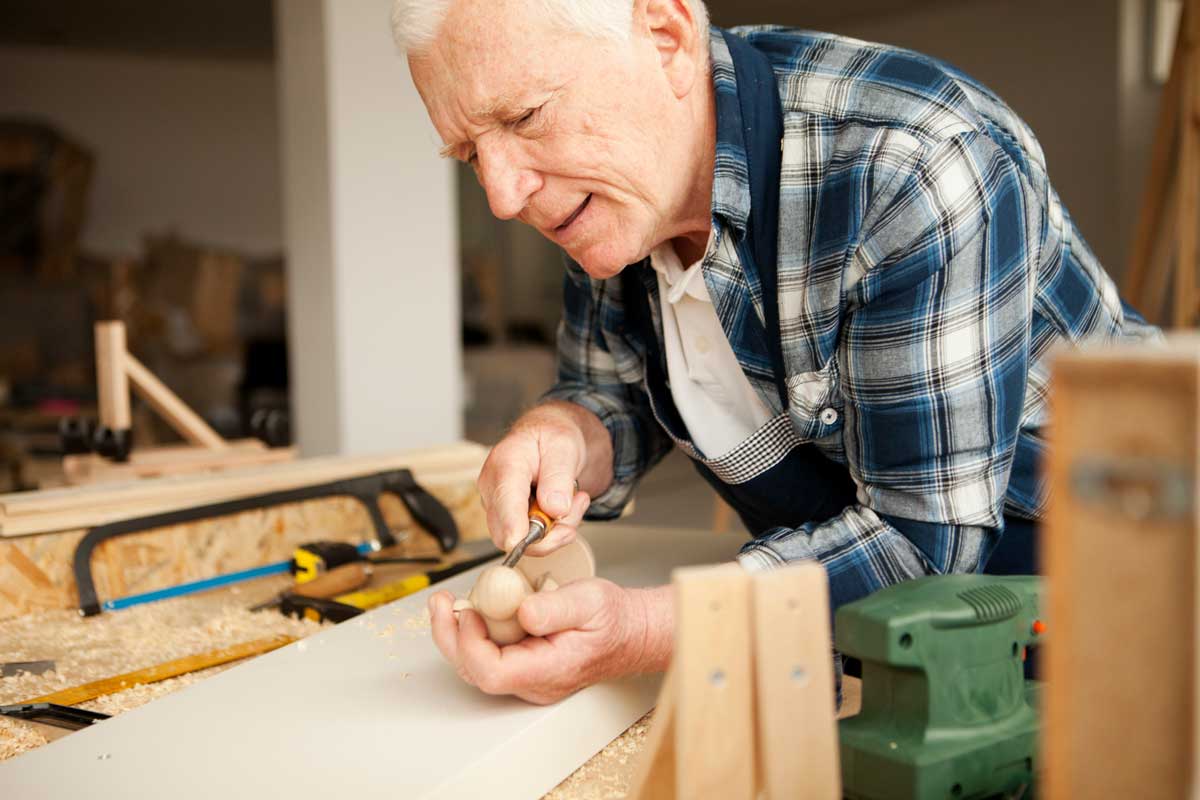 Simple Woodworking Projects for Seniors
Discover a hobby that will exercise both sides of your brain. Creativity has no age limit, and it's never too late for a senior of any age or ability to learn a new skill that could turn into a passion. If you're looking for a hobby that will challenge your mind, spark your creativity and give you the opportunity to work with your hands, easy woodworking projects can be a great place to start.
Woodworking projects can be as big or small as you want, and you can learn to create anything from a practical item or unique gift to a piece of fine furniture. Woodworking requires focus and attention to detail that can help strengthen your fine motor skills and keep your mind sharp. And, while woodworking is often listed among hobbies for senior men, it can be a fun and fulfilling hobby for any gender, or even a great activity for couples to enjoy together.
When you're looking for new hobbies to try, it's a good idea to choose something that allows you to start small and then progress as your skills improve. You'll find that there are plenty of beginner woodworking projects that don't require a complete woodworking shop, just a few simple tools.
Woodworking tools
While woodworking for beginners doesn't require a full woodworking shop, there are a few supplies that will be needed. Most simple woodworking projects for seniors can be done with just a few hand tools. For those who struggle with grip or prefer a speedier process, power tools can make the process easier and more comfortable. Following are some essential woodworking tools with their power counterparts:
Screwdriver or power drill and driver
Hand saw or miter saw
Hammer and nails or a nail gun
Sandpaper or an orbital sander
Ruler or tape measure
Water-resistant wood glue
Pencil
Not all projects will require every tool, so looking over woodworking plans beforehand will help you ensure that you have the proper tools on hand to complete your project. It's also nice to have a dedicated workspace or a workbench to help contain the mess you'll make with all that sawdust — especially as your skills progress and you move on to more complex woodworking projects.
Safety equipment and procedures
As with any project involving tools or dust, safety is an important consideration. While beginner woodworking projects don't usually require the use of heavy-duty power tools, it's still important to take proper safety measures. The first thing to do, regardless of what project you're undertaking, is to acquire and wear the right safety equipment including:
Safety goggles or protective eyewear
Gloves
Dust mask
Closed-toe shoes
Hearing protection if using power tools
The clothing you wear while woodworking is also important. Baggy clothing can present a safety issue and nice clothing might get messy. It's also important to maintain a clutter-free workspace that won't restrict your movement or create a risk for tripping or falling. Lighting should be clear and bright so you can see what you're doing at all times.
Another good safety idea is to have a companion or someone who can periodically check up on you. Woodworking can be quite fun with company and, while most simple woodworking projects are fairly safe, accidents can and do happen.
A sampling of simple woodworking projects for seniors
Once you've collected your basic tools and all needed safety gear, you're ready to tackle your first project. But what will you make? The following list of woodworking ideas can get you started. Look for plans and instructions for these and many other projects on the internet.
A great beginner project, making a cutting board requires minimal use of tools and is easy to assemble. There are thousands of online how-tos explaining the process of shaping and connecting the pieces, and you can even order kits that come with the necessary supplies, including various types of wood that can help you make a cutting board that is distinctively yours.
Birdhouses can be made from scratch or you can order a kit from one of many online woodworking supply companies. This project may require more tools than some of the others, but that doesn't mean it's more complicated. There are many resources that will walk you step-by-step through the process, and, once it's built, you can showcase your creative abilities with paint or stain before welcoming feathered friends to your yard.
If you have grandchildren, this is a simple project they can participate in or just enjoy playing with when you're done. It's also a great use for scrap wood that otherwise may be thrown out or just lay around collecting dust. Blocks can be cut and shaped to fit children's hands for building towers and other structures or, with a little paint and creativity, can be turned into alphabet blocks.
Step Stool or Portable Bench
Using just a few small boards and nails, you can build an inexpensive and sturdy stool that can be used to reach higher shelves or just serve as a nice seat. 
Small shelf units are simple to make and can serve a number of functions. Need a place to store your shoes? Maybe your bookshelves are becoming a little cramped or maybe your collectibles  deserve to have their own space. This is a versatile project that can be customized to your storage needs.
Simple and elegant planter boxes can be customized and painted, and make a stylish addition to any garden or backyard when planted with flowers or herbs.
Tired of having mud tracked in through your front or back door? A boot scraper is easy to construct and will be perfect for the rainy season.
Magazine Storage Containers
Do you have magazines stacked up on your coffee table? Or are you sick of trying to organize them in drawers, only for them to slide around and become an incomprehensible mixture of editions of all kinds? Make your magazines their own upright storage containers. They'll be much simpler to navigate and organize, no more rifling around in frustration.At Lake Seminole Square, you can indulge in your favorite pastimes or learn new skills as you pick up a new hobby. Residents enjoy using the arts & crafts studio and the well-equipped woodworking shop on our campus. You'll also find book clubs, writing groups, theater-style movie screenings and more.
To learn how independent living at Lake Seminole Square can help you connect with your creative side or keep you inspired, simply call us at 727-314-7432 to find out more about our offerings.